Effective, Economical Solutions to Your Industrial Packaging Problems

Niagara Fiberboard manufactures various thicknesses and sizes of paperboard and has economical solutions for your industrial packaging problems. Extremely sturdy, these packaging materials provide dependable and economical protection for steel and other industrial products. We can also custom-engineer packaging products to meet your specific requirements. All packaging materials from Niagara Fiberboard are 100% recyclable, meeting global industry shipping regulations.
Pasted Chip
Multi-purpose, two-sided smooth board featuring widths to 96"
Special lengths available
SBS, clay-coated and white lined surfaces
Eleven nominal thicknesses: .080", .090", .100", .125", .160", .187", .200", .250", .330", .375" & 500"
Single Ply Chipboard
Black, mounting-grade bending, and plain chipboard
Available in many finishes: plain chip, clay coated, SBS and others
Provided in sheets or rolls and in thicknesses from .012" to .070"
Click here to view our complete Single Ply Chipboard product line.
Corner Board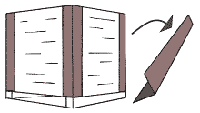 Roll laminated for strong right angle protection
White lined and fully wrapped
Custom imprinting available.
Caliper .120 - .400; widths 2" x 2", 2-1/2" x 2-1/2", 3" x 3"
Roll Edge

Rolls of chipboard for OD and ID protection of coils
.040" and .050" thick; 9-1/2" and 5-1/2" widths.
Solid Fiber
Slipsheets from virgin Kraft and recycled paper
Corner cuts and scores available
Tier sheets, anti-slip sheets and polycoated sheets also available